Deutsche Bank's boss calls for more cross-border bank mergers
Comments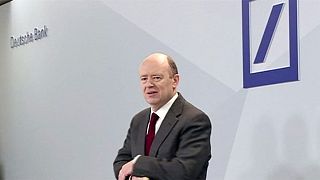 The boss of Deutsche Bank has said there should be more cross-border bank mergers in Europe, criticising what he called "scattered regionalism".
Speaking at a banking conference, John Cryan said: "We need more mergers, at a national level, but even also across national borders."
He singled out Germany saying it has "just too many banks".
Profits at financial institutions across Europe have been generally sinking.
That is because economic growth remains low, interest rates have been slashed and lenders are trying to work out to do about billions of euros of loans that are unlikely to be paid back.
Deutsche Bank's Cryan concluded: "This situation in Europe cannot go on. We need a strategy for our financial sector."
No Deutsche-Commerzbank merger
His comments will likely spur further discussion about the future of his bank, although he was quick to dismiss a report in Germany's Manager Magazin that Deutsche had examined a merger with Commerzbank, which is partly owned by the German state.
Some analysts have argued that Deutsche would be advised to find a partner once it has stabilised its business, cut costs, and put capital and regulatory concerns behind it.
Both Deutsche and Commerzbank – the two biggest lenders in Europe's biggest economy – have been slipping down the rankings of the continent's top banks, hit by a fragmented and competitive home market, growing regulation and negative interest rates.
Deutsche Bank only just scraped through regional stress tests of the sector.