Cuba feels the benefits of being back in favour in Washington
Comments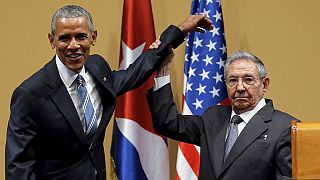 After more than half a century of freezing Cuba out of diplomatic relations the last year has seen an abrupt turnaround between Havana and Washington.
An historic handshake between Barack Obama and Raul Castro at a homage to Nelson Mandela set the ball rolling, and set up a political coup for the American president.
The spectacular make-up was sealed with near-simultaneous declarations on December 17 2014, ending the war between the two sides, restoring diplomatic ties, and diluting economic sanctions.
Eight months later the symbolism was strengthened when the US flag again flew over the embassy in Havana as it was reopened. It was a major landmark in Obama's foreign policy record, and comes just before he ends his second mandate.
At the end of September 2015, Barack Obama and Raul Castro exchanged smiles and handshakes while attending the UN General Assembly in New York. It was another front-page moment.
The warming in relations is seen as highly significant and normalised relations are expected to bear fruit of all kinds, political and social as well as economic.
"That, after so many years, Cuba and the United States have relations again will be a great benefit for families: both the families over there and those here," said Havana resident, Idalia Cuellar.
However Barack Obama has focused on the economic aspects of normalisation. Cuba and America have signed bilateral agreements on the restoration of regular commercial flights and a postal service.
And on March 20 Obama flew in and landed on Cuban soil to underline the historic nature of the moment: it has clearly been his ambition to speed the process along before he has to leave office.
Speaking in front of Communist Party headquarters, he defended his Cuban policy.
"As President of the United States, I've called on our Congress to lift the embargo.
I believe my visit here demonstrates you do not need to fear a threat from the United States," he said.
The immediate and direct result of Obama's policy has been economic. Tourists are once again arriving from America and their dollars will help drag Cuba out of decades of economic stagnation. But adjusting will be tricky: for example in April Cuba's brewers warned thirsty Americans were drinking the island dry of beer.