Thousands of migrants are rescued at sea in the biggest operation so far
Comments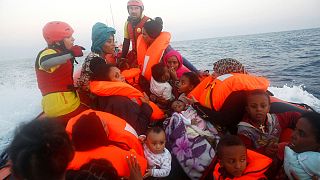 Thousands of migrants have been rescued off the coast of Libya in just 24 hours.
In one of the biggest operations to date Italian coast guards said some 40 co-ordinated rescue missions took place on Monday.
Vessels from Italy as well as the EU's border agency Frontex and the NGOs Proactiva Open Arms and Medecins Sans Frontieres were involved.
An estimated 6,500 people were picked up. Most were said to have come from Somalia and Eritrea.
Shocking photos from today's rescue by the #Dignity1 and PROACTIVA_SERV</a>. This is <a href="https://twitter.com/hashtag/Europe?src=hash">#Europe</a> in 2016. <a href="https://t.co/M8E4qNCw7y">https://t.co/M8E4qNCw7y</a></p>&mdash; MSF Sea (MSF_Sea) August 29, 2016
Thousands of #migrants rescued in the Mediterranean Sea about 13 miles from Sabratha, Libya. morenatti2004</a> <a href="https://twitter.com/hashtag/refugee?src=hash">#refugee</a> <a href="https://t.co/5oPf4VJKAe">pic.twitter.com/5oPf4VJKAe</a></p>&mdash; AP Images (AP_Images) August 29, 2016
Meanwhile at a diplomatic conference in Berlin, Polish Foreign Minister Witold Waszczkowski has criticised the European Commission's handling of last year's migrant crisis saying Brussels had exacerbated the problem.
"The methods of the Commission in this matter were, to say it lightly, very non-transparent and the actions it took not only have not resolved the migration problem, but even formed new ones, for instance in the area of internal security," said
Waszczkowski blames the policies of the EU's executive for Britain's vote to leave the bloc. He said the EU had taken "hasty and irresponsible and not thought through steps" in response to the massive influx of refugees from Syria, Iraq and other war torn countries.