"Weimar Triangle" group to get second lease of life
Comments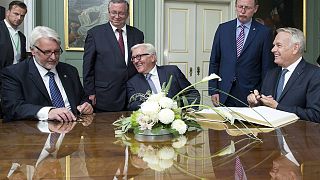 Germany, Poland and France have vowed to kick-start the so-called "Weimar Triangle" group first formed 25 years ago after the end of the Cold War.
The respective foreign ministers see the group as helping with the many challenges now facing Europe including the repercussions from Britain's vote to leave the EU.
German Foreign Minister Frank-Walter Steinmeier said the leaders of the three countries would meet before the end of the year, and his French counterpart, Jean-Marc Ayrault, said France would host the summit in November. The leaders of the Weimar Group last met, as a group, five years ago.
Germany, Poland and France revive Weimar group to bolster EU confidence https://t.co/luU5GwygG9#NLU

— News Service (@RealTimeHack) 28 August 2016