Tunisia's new PM says economy and fighting terrorism are priorities
Comments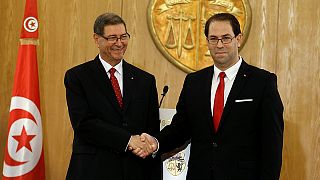 Tunisia's new prime minister Youssef Chahed says boosting the economy and fighting terrorism are his priorities, as the country's unity government officially takes office.
The new Cabinet was confirmed on Friday night, ending months of negotiations, as the country faces tough challenges, including security worries.
"Democracy is about supporting institutions and it is not associated with particular people. I assure you of the continuation of the democratic revolution in Tunisia," said Chahed.
"But the revolution is threatened if we do not succeed in achieving the economic and social goals, which the people have been awaiting for six years."
Congrats Youssef Chahed, Tunisia's new and youngest PM at 40. Arab Spring skeptics stymied by Tunisia's stability. pic.twitter.com/9WWpHYpP2S

— James Hall (@hallaboutafrica) 28 August 2016
The new Cabinet took office as three Tunisian soldiers were killed, and seven others wounded, in an attack on their patrol in the Kasserine region.
Islamist militants fired on them with rifles and rocket propelled grenades after they hit anti-tank landmines, according to the army.
The militant threat is one of the key challenges for the new prime minister.
The handover between outgoing Prime Minister Habib Essid and new Head of the Government Youssef Chahed #tunisiapic.twitter.com/AOeTZI1bwK

— Abdelaziz Ben Aziza (@abenaziza) 29 August 2016