On the Serbian-Hungarian border, refugees' long march to safety grinds on
Comments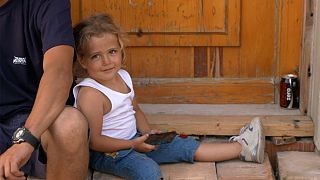 One year on, and for international televisions and newspapers Röszke-Horgos isn't news any more, but the situation in the Serbian migrant "jungle" is still quite difficult.
Over the summer more than 100 migrants arrived on the Serbo-Hungarian border every day. Now it is at about 250-270 people, mostly from Afghanistan and Pakistan.
Even the simplest things are hard here, even getting a haircut:
"The police don't allow us into the city to cut hair, so I cut the hair of people here for free, and I don't receive any money from my customers here," said an Afghan barber.
The spokesperson of the UNHCR's Hungarian office thinks that the conditions at Horgos are very bad. Refugees and migrants don't even have a decent spot to take a shower.
"The situation is awful in every regard. It is hair-raising to see that families with little children, sometimes even babies only a few days old, are living for weeks in these tents, which are not even real tents. They are only hovels, constructed from blankets, torn raincoats and nylon scraps," says Ernő Simon.
All these people dream of being admitted to the transit zone. Because once they get in, their asylum demand will be considered by the Hungarian government.
The Hungarian authorities let only 15 people per day into the zone. Families have priority, but still their request could take up to two months before being examined.
The Hungarian policy toward single men is more severe. They have to wait on average 28 days. There were reports about someone who waited for more than 200 days.
Getting across the Mediterranean is one thing: getting into Europe is proving even harder, and much longer, for many.