Rosberg cruises to maiden Belgian GP win as Hamilton battles from the back to finish third
Comments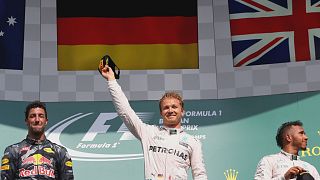 Nico Rosberg celebrated his first win at the Belgian Grand Prix on Sunday at Spa-Francorchamps and continue Mercede's complete dominance of the 2016 season.
With reigning world champ and Mercedes teammate Lewis Hamilton starting from the back of the grid due to engine penalties the race in Belgium was always going end one way – with Rosberg standing on top of the podium spraying his team and rivals with the bubbly stuff.
As pole-sitter Rosberg raced out in front and never looked back Hamilton weaved his way through the field in what turned out to be an eventual first few laps that saw, Kimi Raikkonen, Ferrari teammate Sebastian Vettel and Red Bull's Max Verstappen all collide at the first corner and suffer c ar damage.
On Lap six the safety car was deployed for a high-speed crash involving Kevin Magnussen, who was taken to hospital with an ankle injury.
After the chaos Hamilton continued to pick off spots and was to finish the race third behind Red Bull's Daniel Ricciardo in second.
Rosberg, meanwhile, took his sixth win of the campaign and first since June.
The German's first career win in Belgium reduced his points deficit to championship leader Hamilton to nine.
The first Belgian GP
Spa-Francorchamps is one of the most popular tracks on the calendar.
Since its first race, in 1922, it has been a reference for all motorsport lovers and it was an obvious inclusion for the inaugural Formula 1 season.
It was the fifth of seven rounds of the 1950 World Drivers' Championship.
The 35-lap race was won eventually won by Alfa Romeo's Juan Manuel Fangio after the Argentine started from second position.
His Italian teammate Luigi Fagioli finished second while Talbot-Lago driver Louis Rosier of France came in third.
Fangio would go on to win five world championship titles over his career but not the inaugural season – that was won by Italian Giuseppe "Nino" Farina.