Italy quake: restaurants launch pasta campaign for devastated areas
Comments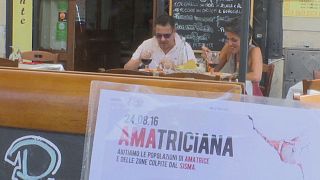 In a move aimed at showing solidarity with the victims of Wednesday's devastating earthquake, chefs in Italy are serving up more pasta all'Amatriciana.
The rustic food, made up of tomatoes, pork, paste and cheese comes from Amatrice, which was flattened by the quake.
The campaign aims to raise two euros for every dish sold with the proceeds going to devastated areas.
"We wanted to participate because we feel a part of Amatrice. It's a Roman restaurant and Amatriciana is part of our culture. It's been very painful for us to see all the destruction, it's been very painful," Luca Reo, a restaurant owner said.
The initiative has already been picked up by several restaurants in Rome.
For the moment, the total economic cost of the disaster is still unclear, but local business leaders fear the worst, in a region where tourism is seen as vital.
"Unfortunately the economic damage cannot be quantified yet, I think it's immense but it cannot be quantified at the moment. Afterwards, probably. Firms were also badly hit, especially tourism, in Amatrice I think there is no longer a hotel. There aren`t many businesses.'' said Gianfranco Castellii, President of Unindustria Rieti.
Meanwhile, engineers have started building a new road into Amatrice, after a recent aftershock destroyed the only bridge into the devastated town.