At least 17 dead in Moscow warehouse fire: Russian ministry
Comments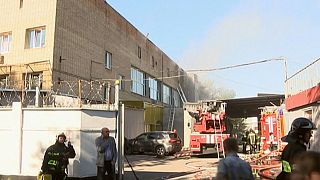 At least 17 migrant workers died after a fire broke out at a Moscow warehouse on Saturday morning, Russian authorities said.
"When the fire was being put out, a room that had been cut off by the flames was discovered," TASS news agency quoted the regional branch of the emergency ministry's press service as saying.
The Moscow branch of the emergencies ministry told reporters the victims of the fire were migrant workers from Kyrgyzstan.
The fire was thought to have been caused by a broken lamp in a room containing large quantities of flammable liquids and paper products, according to the ministry.
Interfax news agency reported the blaze spread through a lift shaft to the room in which the people were killed.
The Moscow branch of Russia's Investigative Committee said in a statement that it was still investigating the incident.
The fire on the press in Moscow: 17 dead, four injured. Comments of the witnesses https://t.co/hdci0o7Gx8pic.twitter.com/wrZ6HXUQ6D#Russia

— Rus to En Fr Es News (@Rus_Eng_News) August 27, 2016
BREAKING: At least 16 dead in huge fire at Moscow warehouse https://t.co/V2FgwT7cpJ (pic https://t.co/UOrr35N0Z9) pic.twitter.com/V8K7YX3QfP

— RT (@RT_com) August 27, 2016