Turkey opens world's biggest suspension bridge in Istanbul
Comments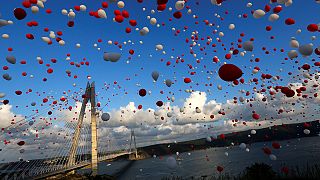 Turkey has opened the world's biggest suspension bridge in Istanbul.
It took three years to build and cost some 3 billion euros, and marks the latest mega project which President Erdogan hopes will boost economic growth and seal his place in history. He told crowds 'People die, but their work remains immortal'.
The third bridge to span the Bosphorus, it will carry eight lanes of traffic and two railway lines. It aims to alleviate congestion on the other two bridges, and help develop the northern parts of the city.
#Istanbul's 3rd #Bosphorus Bridge opens today! #Sentinel2 followed progress over past year https://t.co/s59d3VTPdapic.twitter.com/2KRqeyoSlv

—

ESA

(@esa) August 26, 2016
Named after Selim I, a 16th century Sultan who expanded the Ottoman Empire, the name stirred controversy. As the ruler was also known for the massacre of Alevi Muslims.
The bridges over the Bosphorus have taken on greater symbolic importance since the failed coup attempt, when plotters blocked the two existing bridges, Erdogan's supporters faced them leading to deadly clashes. One bridge was renamed 'Martyrs of July 15 Bridge'.
IN PICTURES: Istanbul welcomes third bridge over Bosphorus https://t.co/CTLTWlNfF2pic.twitter.com/pUYuawK4Cb

— Hürriyet Daily News (@HDNER) August 26, 2016