State funeral for Italy quake victims
Comments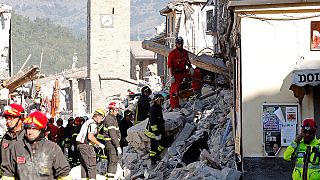 A state funeral on Saturday will lay to rest some of the 278 victims of Italy's earthquake, among them many children.
It was a horrible destiny

Grieving resident
Any chance of finding survivors under the rubble of the 6.2 magnitude quake is fading and in some parts of the devastated central mountainous region, rescue efforts have been scaled down or called off altogether.
For those who have lost family or friends, memories of happier times just hours before the tragedy are haunting.
"We still have the photos we took with dinner, that night on the square," said one grieving resident, Emilia Ambrosi.
"One of them has died, Stefano. He was a beautiful boy. He lived in Rome but had a house here. It was a dinner with friends. We thanked them for the hospitality, for being together, and then that night… It was a horrible destiny."
Hundreds are injured and an estimated 2,500 people homeless after Wednesday's disaster, the deadliest quake in Italy since 2009.
As powerful aftershocks continue, rescue teams know that, barring miracles, their work is now a recovery operation.