Italy quake: Renzi calls for new homes initiative
Comments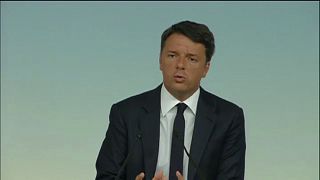 Italy's Prime Minister has declared a state of emergency and authorised an initial 50 million euros in crisis funding following the earthquake which left at least 267 dead.
In addition, Matteo Renzi said taxes would be cancelled for those residents affected.
It came as he launched a new initiative to build homes safe from future earthquakes in a bid to tackle shoddy construction.
Naming the project 'Italian Homes', Renzi said: "The final plan must be a serious plan, not just hot air. It must be something everyone can relate to. A building project which will be serious and systematic. The fact that we have not succeeded before does not mean that we should not try to do it now with the help of everyone."
Italy has a poor record of rebuilding after quakes.
More than 8,000 people who were forced to leave their homes after the deadly earthquake in L'Aquila in 2009 are still living in temporary accommodation.
There has also been widespread criticism of building standards in high-risk areas. While most properties in the area were built hundreds of years ago, some of those that collapsed had recently been renovated.