Hopes of a production freeze dim, pulling down oil prices
Comments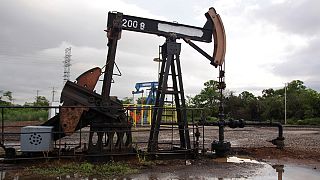 Oil prices have slipped amid fading hopes of an agreement to limit production.
The benchmark Brent crude is hovering around $49 dollars a barrel.
Despite the market being oversupplied, prices rose more than 20 percent in the first three weeks of August.
That followed talk of a potential deal by oil exporters to freeze the amount they are pumping at current levels to try to support prices.
Hopes of an agreement have now been dampened and industry experts said even if it happened, the effect on prices would be minimal.
Members of the Organization of the Petroleum Exporting Countries will meet on the sidelines of the International Energy Forum, which brings producers and consumers together in Algeria on Sept. 26-28.
US investment bank Jefferies said in a report: "We do not expect a production freeze – let alone a production cut – from the OPEC meeting."
Reports find price is not right for OPEC production freeze https://t.co/IZ8KacYTNj via crudeoilprices</a> <a href="https://twitter.com/petromatrix">petromatrix

— petromatrix (@petromatrix) August 24, 2016
The glut has pulled down crude prices from over $100 a barrel in 2014 to their current levels, below $50.
There is a lot of oil and distilled petroleum product in storage worldwide as demand weakens, particularly in China and elsewhere in Asia.
Oil prices waver as disappointing U.S. inventory data fuel oversupply concerns https://t.co/1i6dRWyjGu

— MarketWatch (@MarketWatch) August 25, 2016