Erdogan wants to contain Syria's Kurdish rebels at all costs
Comments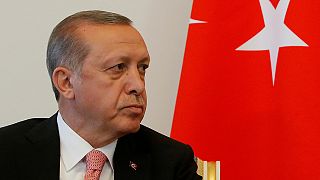 In a joint operation with the US military Turkey has launched its largest incursion into Syria yet, with the aim of taking control of the border town of Jarablus away from ISIL.
ISIL, also known as Daesh, has reportedly shelled southern Turkey from the town in recent days.
"This morning our army started an operation against terrorist organisations like Daesh and the PYD in northern Syria who have been threatening our country, our security forces," Erdogan said, referring to the Kurdish Democratic Union Party.
Fighters from the more moderate Free Syrian Army have been crossing into Syria from Turkey to occupy Jarablus as both Turkey and the US hope to install them into Jarablus.
But for Erdogan limiting the advance of the Kurdish rebels is actually more important than defeating ISIL.
"Turkey is trying to give support to the Free Syrian Army existence there, the moderate forces, so that if possible they can regain this land piece from Daesh in Jarablus, before the PYD," Nursin Atesoglu Guney an international relations professor at Yildiz Technical University in Istanbul said.
Turkey wants to avoid at all costs what happened in the town of Manbij on Tuesday. It was liberated from ISIL control but by an assortment of Syrian rebels which included Kurdish PYD fighters.
Keeping Kurdish fighters away from the Syrian border is a crucial aim for Erdogan. If Jarablus fell to the Kurdish YPG fighters it would mean a whole swathe of the Syrian border would be controlled by the Kurds.
Turkey regards the YPG as an ally of the Kurdistan Workers Party or PKK, which has been fighting for autonomy since the 1980s.
But the relationship with the United States may get in the way of Erdogan's political strategy.
In what seems to be a bid to limit America's influence in the region Erdogan has reconciled Turkey with two of Washington's old foes: Russia and Iran.
Turkey is demanding the US extradite the moderate cleric Fethullah Gulen whom it accuses of being the mastermind of July's attempted coup.
Meanwhile with Russia, the United States and now Turkey fighting there, Syria's long running civil war grows more international by the day.