Biden seeks to reassure Turkey of US support after criticism over coup
Comments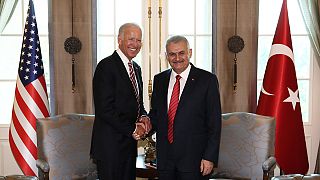 The US Vice President Joe Biden has voiced support for Turkey during the highest-level visit by a Western diplomat since the failed coup in mid-July.
It comes as anti-Western sentiment has soared in the country: governments have been criticised for being slow in condemning the coup.
Many Turks suspect the US was involved in some way and Biden wanted to set the record straight.
"The United States of America did not, did not have any foreknowledge of what befell you on the 15th. The United State of America, the people of the United States of America abhor what happened," Biden told a joint news conference.
The US vice president said the US had made it clear that Syrian Kurdish forces must return to east of the Euphrates river after seizing control of the Syrian town of Manbij.
Turkey is disturbed at America's alliance with Kurds in northern Syria as it believes they are linked to Turkish Kurds in conflict with Ankara.
It fears the partnership may help the Kurds develop an autonomous zone near the Turkish border.
"Turkey will never – ever accept any new Kurdish formation (creation) in its southern borders and I see it as very big threat to our national security," said Turkish Prime Minister Binali Yildirim, appearing alongside Biden.
NEW: Biden seeks to reassure incensed Turkey over alleged coup-plotter living in US https://t.co/M9rVdxBezBpic.twitter.com/ZASk8FJWig

— The Hill (@thehill) August 24, 2016
There's also frustration that the US hasn't extradited the exiled cleric Fethullah Gulen whom Turkey blames for orchestrating the coup. He denies any involvement.
Joe Biden – who went on to meet President Recep Tayyip Erdogan – said the United States was cooperating with Turkey in evaluating evidence against the cleric but that legal standards must be met.
US Vice President Biden at the Presidential Complex https://t.co/0p8LeEPJuEpic.twitter.com/9GOPzTuTRp

— Turkish Presidency (@trpresidency) August 24, 2016