France and Germany call for European unity in the fight against terror
Comments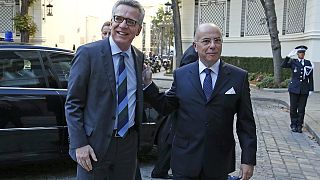 French authorities have arrested seven people on terrorism-related offences this month, at least three of whom allegedly had specific projects planned. Interior Minister Bernard Cazeneuve made the announcement during a meeting with his German counterpart in Paris.
The message from here is [...] a united Europe is better.

German Interior Minister
In the wake of the UK's decision to leave the EU, Thomas de Maiziere pushed for unity in the bloc.
"It is quite clear that with the current movement of people and the proximity to the Middle East, for our member states it is much better if we cooperate more in Europe," he said. "Many voices are critical of Europe at the moment, questioning whether it is useful. The message from here is, as far as security is concerned, a united Europe is better."
Cazeneuve said the same number of terror suspects had been detained in France between January and the end of June as in the whole of 2015. He reported decisive advances in the fight against terror on a European level.
"The different files [on terror suspects] must be interoperable, and by that I mean interconnected," he told a press conference. "It is imperative that the police, our police on the ground, use one single interface and simultaneously examine all national and European files in order to manage the necessary security checks."
The minister has thrown his support behind a campaign to restrict encryption on certain secure online messaging sites such as WhatsApp and Telegram. He is calling for legislation to be put in place Europe-wide.