Islamic extremist pleads guilty in The Hague
Comments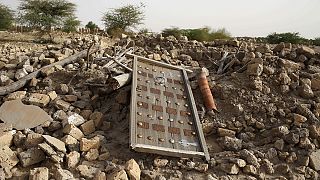 Malian citizen Ahmad al-Faqi al-Mahdi's trial in the International Criminal Court in The Hague is a legal first. He is the first Islamic extremist to appear before the court and he's the first person to be accused of "destroying cultural artefacts."
I am really sorry and I am really remorseful

Mali citizen accused of destroying cultural artefacts
It's also a first in that he's pleaded guilty. "With deep regret and great pain I have to enter a guilty plea and all charges against me are accurate and correct. I am really sorry and I am really remorseful," he told the court.
Islamic extremists overran the historic city of Timbuktu in 2012 and appointed al-Mahdi, a Touareg teacher, to head their morality police.
The city had been a great centre of learning and was famous in West Africa and far beyond, from the 13th to the 20th centuries.
But Al-Mahdi was instructed to destroy the nine tombs which are recognised as World Heritage Sites by the UN as they were deemed idolatrous.
The al-Qaeda-linked Ansar Dine group, which he was a member of,also ordered the destruction of a rare library of ancient Islamic texts.
Thousands of legal texts were burned at the Ahmed Baba Centre for Islamic learning. Considering Africa has very few written artefacts that originated before colonial times, the library's destruction was particularly tragic.
If al-Mahdi is convicted it may set a precedent for investigations into the destruction of other cultural sites around the world, such as in Iraq and Syria, but there are legal obstacles to overcome first.
Both countries would have to recognise the jurisdiction of the ICC or the UN Security Council would have to refer cases from either country to the court.
Reconstruction of the mausoleums was finished in July 2015 and in February this year they were reconsecrated, 900 years after they were first built.
Today Timbuktoo's residents hope that al-Mahdi's trial will begin to restore the city's fabled image amongst tourists – and bring back a badly needed source of income.