Russian pole-vault champ announces retirement
Comments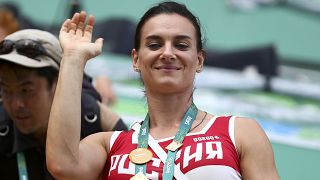 She was barred from competing at the Rio Games – and now Russia's double Olympic pole vault champion Yelena Isinbayeva has announced her retirement.
Bowing out, the 34-year-old said whoever won the women's event in Brazil in her absence would not have achieved a proper gold medal.
She also had a message for athletics' governing body – which excluded Russian athletes from competing in Brazil, amid allegations of state-sponsored doping.
"If the president and all the members of the IAAF believe they behaved honestly towards me and all the clean Russian track and field athletes, let that be on their conscience, God will be their judge," Isinbayeva told reporters at a news conference.
Isinbayeva's been elected by her peers to the International Olympic Committee's athletes' commission.
The IOC is due to vote on Sunday on whether to confirm her as one of its 100 or so members at a time of crisis in Olympic-Russia relations.