Greek court to consider Turkey coup suspects' asylum request
Comments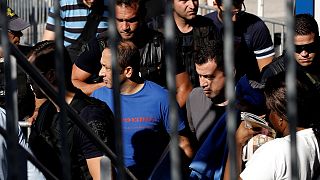 A Greek court is due to consider on Friday the asylum request from fugitive Turkish army officers who fled following last month's failed coup attempt.
The Greek foreign ministry said on Thursday it had received an official extradition request from Turkey seeking the return of the eight officers.
The men – six pilots and two engineers – asked for asylum after landing a military helicopter in northern Greece four days after the attempted government takeover.
A local court handed out suspended sentences for entering the country illegally. They are being held in police custody in Athens.
The eight deny involvement in Turkey's coup attempt and say they fear for their safety back home amid the ensuing government purges.