Disgraced US Olympic swimmer Ryan Lochte apologises over robbery story
Comments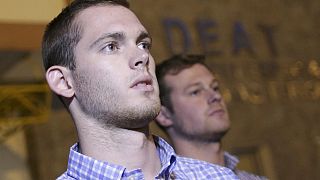 Olympic swimmer Ryan Lochte has said sorry for fabricating a story about being robbed during the Rio Games by gunmen posing as police officers.
The gold medallist said: "I want to apologise for my behaviour last weekend."
In an Instagram message and Twitter tweet he says: "I should have been more responsible in how I handled myself, and for that I am sorry to my team mates."
Explaining the fact that he wasn't the subject of an armed robbery but was being pressed for compensation for an act of vandalism, Lochte says: "It's traumatic to be out late with your friends in a foreign country – with a language barrier – and have a stranger point a gun at you and demand money to let your leave."
He goes on: "I accept responsibility for my role in this happening and have learned some valuable lessons."
https://t.co/n82dZH2gflpic.twitter.com/rGp1nmA94G

— Ryan Lochte (@RyanLochte) August 19, 2016
Two other US Olympic swimmers have returned to the US in disgrace after the incident that has
embarrassed the host city, angered the police and government, unleashed a storm
on social media, and dominated news coverage.
Jeered and called "liars" and "fakes" by a crowd at the airport, Gunnar Benz and Jack Conger flew home after Brazilian police said they had made up a story about being robbed at gunpoint on Sunday.
The US Olympic Committee issued a public apology for the men's conduct.
The incident occured after the manager of a petrol station in Rio demanded compensation for the drunken vandalising of the station's bathroom after the men asked to use it. The USOC, having earlier backed them, now confirms the police accusations.
The fourth swimmer involved, gold medallist Jimmy Feigen, has admitted the truth in order to get his passport back and will pay money to a Brazilian charity to make amends.
The group's story unravelled as security footage showed them arguing with the petrol station's armed security guards.