Rio police say US swimmers made up armed robbery story
Comments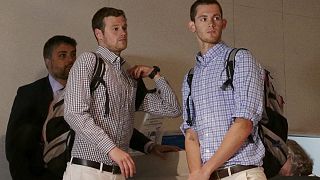 Police in Rio say four US Olympic swimmers who claimed they were robbed at gunpoint fabricated the story to try cover up what really happened, which was that they got into a dispute with security guards at a petrol station over paying for damage they drunkenly did to a toilet door and other fittings.
There was no robbery the way the athletes reported

Head of Rio's civil police
CCTV footage confirms that altercation. Other video showed that the four – Ryan Lockte, Jimmy Feigen, Gunnar Bentz and Jack Conger – were actually at a party when they were supposed to be being robbed.
Finally video from the Olympic village showed that when they returned after the incident they still had the wallets and other valuables they said had been stolen.
"There there was no robbery"
The head of Rio's civil police, Fernando Veloso, told a news conference: "Police can say there was no robbery the way the athletes reported. They were not victims of the criminal facts that they described."
Veloso confirmed a security guard did point a firearm at the swimmers but the Rio police chief felt the action was justified.
"According to the testimony of the security guard, he described them as large and because one of them was behaving erratically, a testimony which was confirmed by one of them, one of them was behaving erratically, so the gun was taken out to try to contain them," he said.
"This incident happened in a way that was not 'normal'": Fernando Veloso, Rio police chief https://t.co/TB4NyjSxsR

—

NBC

Los Angeles (@NBCLA) August 18, 2016
"Give these kids a break"
The armed robbery report had increased fears for the safety of athletes and visitors at the Games but organisers tried to play the whole thing down and defended the four swimmers.
Rio 2016 spokesman Mario Andrada told reporters: "We need to understand that these kids were trying to have fun. let's give these kids a break. Sometimes you take actions that you later regret. They had fun. They made a mistake. It's part of life, life goes on. Let's go."
Bentz, Conger and Feigen are still in Rio, Lockte – who has vehemently stuck to the robbery story throughout – returned to the US on Monday.
Police chief Veloso said in theory they could be charged with vandalism and giving false testimony.
The three who are still in the country are being prevented from leaving pending the outcome of the police investigation.
Veloso confirmed that the police had asked for the swimmers' passports to be seized because it was clear they did not want to cooperate with the investigation, adding that only a Brazilian judge can decide when the passports can be returned.