Three separate bomb blasts in Turkey kill 11 and injure more than 200
Comments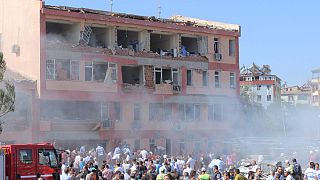 Nearly a dozen people have been killed and more than 200 wounded in Turkey following multiple blasts in the south east of the country.
In the city of Elazig, three officers were killed and around 150 others were injured, several severely, when a large car bomb detonated outside a police station.
Only hours later on Thursday, another three Turkish troops and two security personnel died in a road side bomb.
Suspicion has quickly fallen on Kurdish separatist groups, though so far, there has been no official claim of responsibility.
The attacks in Bitlis and Elazig came shortly after another car bomb blast in the city of Van, next to the Iranian border.
That blast in the early hours of Thursday morning saw three people die. Around 40 others were also hurt. Once again, the explosion took place near a police station.
Turkey's mainly Kurdish south east has seen a surge in separatist violence over the last year following the collapse of a two and half year ceasefire between Ankara and the Kurdish separatist group the PKK.