Refugees did not bring terrorism to Germany - Merkel
Comments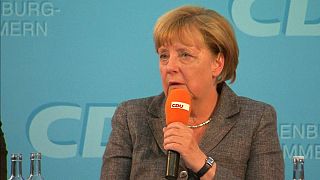 The phenomenon of Islamist terrorism, of IS, is not a phenomenon that came to us with the refugees

German Chancellor
Germany's Chancellor has said that refugees are not responsible for bringing terrorism to Germany.
Angela Merkel says Islam is and will be part of German culture as long as it is practised in a way that respects the country's constitution.
More than a million migrants, fleeing war and poverty in conflict zones like the Middle East and North Africa, have arrived in Germany in the last year.
However, the mood towards them has soured after a spate of attacks on civilians. Three were carried out by migrants.
What did Angela Merkel say?
Angela Merkel says an influx of asylum seekers isn't the root cause of Islamist terror https://t.co/B6Onj4AzNapic.twitter.com/zHp32IkZOp

— Bloomberg (@business) August 18, 2016
"The phenomenon of Islamist terrorism, of IS, is not a phenomenon that came to us with the refugees – rather, we have it, and had it, here," Merkel said in an election campaign event for her Christian Democrats (CDU)
"The work of our security forces is fundamental. And this is why they must be internationally linked because otherwise we cannot fight the threat of terrorism."
What did Donald Trump say?
Speaking at a rally in the swing-state of Ohio earlier in the week, the Republican presidential hopeful likened his Democrat rival Hillary Clinton to Angela Merkel.
He went on to draw parallels with Europe's migrant crisis.
Read the Euronews report here
Crime in Germany – Fact Check
Responding to similar claims by Donald Trump in May, the website Politifact.com said the following:
"There are more criminal acts in Germany these days because there are more people, thanks to the influx of 1.1 million refugees in 2015 alone."
But the data suggest the refugees tend to be better-behaved than the typical German. Even if you presume that refugee-related crime is underreported for political reasons, we could find no evidence in German media reports that the country warrants Trump's 'riddled-with-crime' characterization."
"Because his statement contains some element of truth but ignores critical facts that would give a different impression, we rate it Meist Falsch – Mostly False."
Some facts:
Germany's crime rate, particularly for violent crime, is far lower than the US
The US murder rate is nearly six times higher than that of Germany, according to the most recent report the UN
The number of refugees in Germany has risen fivefold – by 440%
The Federal Criminal Police (

BKA

) say crimes by immigrants rose by 79% in 2015
In numbers, this means 92,000 more crimes committed by migrants than in previous years
The

BKA

says the increase tailed off in the latter half of the year, according to Deutsche Welle
The majority are "petty offences" eg theft Less than 1,000 (1%) are sex crimes, according to Die Welt
Concern over sex crimes peaked after New Year's Eve after reports of mass assaults in the centre of Cologne
A 2014 study found that 40% of refugees from North Africa got into legal trouble within 12 months of their arrival, compared to 0.5 % of Syrians
Read the Politifact report here report for more in-depth analysis.