South Sudan : one year since peace deal
Comments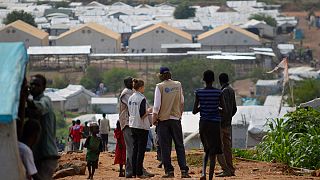 One year to the day since the signing of the peace agreement in Addis Ababa, Ethiopia and there is renewed tension between the two warring factions in South Sudan. They comprise the South Sudanese Army which backs President Salva Kiir Mayardit and rebel militias who support the former Vice President Riek Machar.
The two sides signed the peace agreement, under strong international pressure, agreeing to the implementation of elections for a national unity government as well as the creation of transitional institutions.
The resurgence of violence
But the hour of peace has not yet dawned, and the future of the world's youngest nation has taken a dark turn.
South Sudan: opposition split deepens turmoil amid faltering peace accord https://t.co/bo2fIQj2yMpic.twitter.com/opcSSodzj0

— CS Monitor (@csmonitor) July 26, 2016
In the South Sudanese capital, Juba in July, deadly fighting with heavy artillery broke out threatening the fragile peace agreement.
#Juba, #SouthSudan: The Peace accord is a historical record belonging to South Sudanese, nt leaders #FreeAlfredTabanpic.twitter.com/BbqPoHSc9o

— Tito Justin (@TitoJustin1) July 19, 2016
The civil war began in December 2013, when the President accused his former Vice President of attempting a coup.
"Displacement on a huge scale":http://www.unocha.org/south-sudan
The violence has already claimed tens of thousands of lives and displaced 2.5 million people. South Sudan has one of the highest levels of displacement caused by conflict in the world.
Gambella in Ethiopia hosts more than 270,000 South Sudanese refugees.
UNHR reports that the influx of South Sudanese refugees into Uganda has reached 52,000
since the outbreak of violence last July.
Kenya reported the arrival of 1,000 refugees during the same period, while 7000 others have fled to Sudan.
Since last month a total of 60 000 people have left the country.
Bringing the number of South Sudanese refugees in neighboring countries to nearly 900,000 since December 2013.
Map of Refugees residing in and originating from SouthSudan

(as at 31 July 2016) https://t.co/SffbgOfAm2pic.twitter.com/xLYIYqU78r

— Brendan McDonald (@7piliers) August 11, 2016
A brief respite
After a war with Khartoum which lasted for over 20 years, South Sudan gained independence in 2011 before descending into a bloody civil war.
UN mission in South Sudan
On Friday 12th August the UN authorised the deployment of an additional 4,000 peacekeeping troops to join the 12,000 already on the ground.
President Kiir's spokesperson initially said the government would oppose the UN's decision before saying on Sunday that the transitional government would consider the proposal. If the UN peacekeeping force manage to keep the violence in check, there is still widespread hope that the agreement could lead to a lasting peace.
Security Council approves regional protection force for UN</a> mission in <a href="https://twitter.com/hashtag/SouthSudan?src=hash">#SouthSudan</a>.<a href="https://t.co/4ji45gCyq7">https://t.co/4ji45gCyq7</a> <a href="https://t.co/6ONEVsOPfM">pic.twitter.com/6ONEVsOPfM</a></p>— UN News Centre (UN_News_Centre) August 12, 2016