Radical UK cleric guilty of supporting ISIL
Comments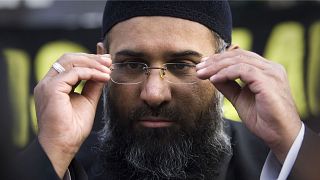 Britain's most high-profile 'hate preacher' Anjem Choudary has been found guilty of inviting support for the so-called Islamic State group.
The radical Islamist cleric was convicted of using online lectures and messages to inspire support for the militant organisation.
The charges
Prosecutors said that social media posts showed Choudary and associate Mizanur Rahman had pledged allegiance to the co-called 'caliphate' declared by Abu Bakr al-Baghdadi in 2014 and said Muslims had a duty to obey or support him. The posts date between August and September of 2014. In one of the clips uploaded to Youtube he said:
"I would just say, uh you know, for people who want to live under sharia law, obviously this is a great thing, and for those people who say we are promoting Isis, they are not even called Isis any more. Rather, you have an Islamic state where you have millions of people who are governed by the sharia law and I don't think it is against the law to go and live there and want to abide by sharia law."
In another clip from 2013 played to the jury for background he said:
"Next time when your child is at school and the teacher says 'what do you want when you grow up, what is your ambition?', they should say to dominate the whole world by Islam, including Britain, that is my ambition."
Both men deny the charges and call the case 'politically motivated'.
Anjem Choudary's tweets from the day he formally pledged allegiance to Isis https://t.co/eR5k51Wqb4pic.twitter.com/5624Az1tUi

— Lizzie Dearden (@lizziedearden) August 16, 2016
"These men have stayed just within the law for many years, but there is no one within the counter-terrorism world that has any doubts of the influence that they have had, the hate they have spread and the people that they have encouraged to join terrorist organisations," said Dean Haydon, head of the Metropolitan police's counter-terrorism command.
The pair face up to 10 years in jail, and will be sentenced in September.
Britain's 'most hated man'
The conviction is the result of a two-year investigation by Scotland Yard, but counter terrorism chiefs have been working for decades to bring Choudary to trial.
Dubbed 'the most hated man in Britain' for his rhetoric, he became known for praising the men behind the 9/11 attacks and called for Buckingham Palace to become a mosque.
He also refused to condemn the 2005 London bombings, but has repeatedly denied any involvement in militant activity.
However, he did serve two years in jail for encouraging followers to kill British and US troops in Afghanistan and Iraq at a protest in 2006.
He was once the head of now banned al-Muhajiroun organisation, which has been linked to dozens of terror suspects. Michael Adebolajo, one of the men who killed British soldier Lee Rigby, had attended protests organised by Choudary.
As media spokesmen for Islam4UK he made the statement about Buckingham Palace and also destroying Nelson's column.