ISIL tactics on exporting terror abroad
Comments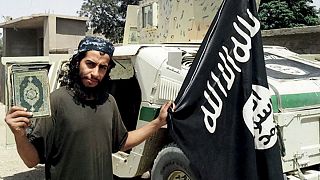 Since the restoration of the caliphate on June 29, 2014 under the rule of the self-proclaimed caliph Abu Bakr al-Baghdadi the so-called Islamic state called on foreign jihadists to take their terror campaign to countries outside the Caliphate.
An interview in the New York Times of a German called Harry Sarfo who is being detained in a prison in Bremen helped throw light on the jihadists strategies as pointed up in the investigative report by the paper's correspondent Rukmini Callimachi
On France Sarfo said he recounted that there was laughter when some jihadists were asked about their presence in France. "Don't worry about France" was the chilling message.
Sarfo claimed in the interview he was made aware of the attacks at the Bataclan in Paris and close to the Stade de France as early as April last year. One hundred and thirty were killed and more than 350 injured.
As for the US and Canada, social networks are the recruitment tools of choice and he added "the Americans are dumb they have open gun policies".
Hiding their radicalisation from the authorities is a well rehearsed tactic. The fighters are trained quickly to avoid raising the suspicions of intelligence agencies.
"When they return to France or Germany, they can simply say, I was only on holidays in Turkey'" claimed Sarfo.
The spokesman of the organisation known as Emni which was set up to export terrorism abroad is the Syrian Abu Mohammed al-Adani. It is understood he coordinates the attacks abroad.
In San Bernadino last December 14 were killed. The group welcomed the attack but did not claim responsibility.
In Orlando 49 were killed. The massacre was claimed by a soldier of the Caliphate. The group said it carried out three bombings in Turkey. At least 66 people were killed.
And two in Tunis which left 50 dead. In Egypt the group said it brought down the Russian Airbus. All its 224 occupants perished.
Experts believe that cooperation in intelligence must be strengthened between the European Union and Turkey if these attacks and the movement of terrorists is to be dealt with.
"Well its counter-terrorism cooperation so it is a question of procedures, judicial procedure, police procedure exchange lists. The majority of the young people going to Syria are from poor neighbourhoods, school drop outs, no job and a vague very vague religious indoctrination," Marc Pierini, former EU ambassador to Turkey and researcher at Carnegie Europe told euronews.
It's believed thousands of Europeans have been radicalised and recruited as fighters in Syria and Iraq. European authorities believe they have the measure of these tactics but is their strategy strongly enough coordinated to counter the jihadists in Europe?