Police name train attack suspect as 'Swiss citizen'
Comments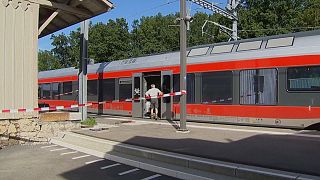 Several people have been injured after a man armed with a knife and flammable liquid attacked passengers on a train in Switzerland.
The suspect apparently set fire to a liquid before stabbing the passengers. Those injured are being treated for burn and stab wounds, among them a six-year-old child.
"We are talking about seven people who were hurt badly or very badly," Bruno Metzger, St. Gallen police spokesperson told reporters. "Six people were involved directly, another one came to help and was hurt slightly…The incident happened in a running train which had to stop. After this, emergency task forces were able to set up the rescue chain."
The attack occured at 2.20pm local time between the towns of Buchs and Sennwald as the train neared the station of Salez in the northeast of the country.
Police identified the suspect as a 27-yr-old Swiss citizen. No motive has been established but they said the possibility of terrorism was 'far-fetched'.