Phelps and Bolt ready for golden goodbyes at Rio Olympics
Comments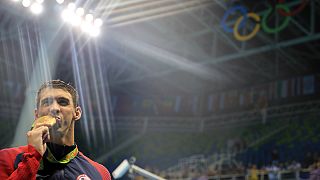 RIO DE JANEIRO – The Unites States' Michael Phelps will climb onto the starting blocks for the last time on Saturday, while the curtain is also set to rise on another legend as Jamaica's Usain Bolt looking to take three more golds at the Rio Olympics.
Phelps, now 31, has a final chance in the men's 4×100 metres medley relay later tonight to win the 23rd gold medal of his astonishing career, while Bolt enters the fray in the heats of the men's 100 metres at the Rio Olympic Stadium.
Both athletes have announced that Rio will be their last Games, and Phelps especially is expected to end his career on a high note after suffering a shock defeat on Tuesday in the men's 100 metres butterfly to Joseph Schooling of Singapore.
The American swimmer's career had threatened to end in public humiliation following a second arrest for drunk driving two years ago, but Phelps banished his demons to leave a Games record which is hard to imagine ever being bettered.
Already the most decorated Olympic athlete ever, Phelps captured four more gold medals over the first six full days of competition at South America's first Games to take his overall medal haul to an incredible 22 in his fifth and final Olympics.
The defeat by Schooling ended Phelps' perfect run in Rio, but he should finish with five golds after the final day of competition at the Olympic aquatics centre in the 4×100 metres medley relay, given the United States have won the event every time it has been contested at the Games.
Phelps has insisted there would be no second comeback, after previously retiring after the 2012 London Olympics, then only to return to Rio to ensure he ended his time in the pool on his own terms.
"I think the biggest thing for me through the meet so far is I've been able to kind of finish how I wanted to," Phelps told reporters. "I'm happy with how things finished. That's why I came back after '12. I didn't want to have a what-if 20 years later."
"Being able to close the door on this sport the way I wanted to, that's why I'm happy now," he said.
Bolt Ready for 'Triple-Triple'
Bolt, meanwhile, is aiming to sign off a majestic career on the track by defending his triple crown of 100, 200 and 4×100 metres titles fro a third straight Olympics.
The 29-year-old world record holder has endured a frustrating season, repeatedly held back by a hamstring problem that has required extensive treatment and forced him to end his appearance at Jamaica's Olympic trials in July early.
He appeared at ease, however, at a press conference where he danced samba with scantily-clad dancers. Bolt even remained upbeat when asked about athletics' tumultuous year, mired in doping and corruption scandals.
"For me, I think we're going in the right direction," Bolt told reporters. "We're weeding out the bad ones," he added, seemingly unconcerned about the prospect of lining up with some former dopers come Sunday's 100 metres final.
"In life, nothing is guaranteed. But for me, going out there, I never worry about it," he said. "As a young kid, you grow up looking forward to the big Games. Championships are what matters. This is what I do. I enjoy doing it."
While the Jamaican's superstar status remains unblemished, Gatlin, who currently holds the world's fastest time this year, is seeking redemption after his loss in the 2015 world championship final, as well as to clear his name after two previous doping bans.
The likeliest challengers to Bolt include Gatlin, but also the next generation of sprinters, led by Trayvon Brummell of the United States, second fastest in the world this year (9.84) , and France's Jimmy Vicaut, third fastest (9.86).