Russia deploys missile system to Crimea
Comments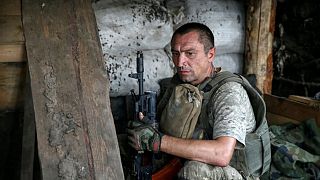 What is the latest development?
Russia has deployed its advanced S-400 air defence missile system to annexed Crimea.
Russian press agencies have revealed the news.
What does it mean?
The announcement comes two days after President Vladimir Putin promised to take counter-measures after what he said were clashes between Russian forces and Ukrainian saboteurs in northern Crimea.
It comes after the Russian navy staged a large military exercise at the port of Sevastopol in the Black Sea on Thursday.
What Ukraine is saying
The head of Ukraine's Defence Ministry Intelligence Service says the risk to the country's safety is "still at a very high level".
It comes after Russian reports of armed incursions in Crimea.
Speaking at a briefing in Kyiv on Friday, Vadym Skybytskyi said there was a strong concentration of Russian troops in Crimea that are ready to move into Ukraine on the order of the Russian authorities.
Troops on full alert
Ukraine put its troops along the country's de-facto borders with Crimea and separatist rebels in the east on combat alert on Thursday.
Ukrainian President Petro Poroshenko issued the order after Moscow accused the country of sending several groups of "saboteurs" to carry out attacks in Crimea.
Kyiv has denied the claim.
What Russia is saying
Russia's Prime Minister Dmitry Medvedev said on Friday that Russia could sever diplomatic ties with Ukraine over the reported security incidents in Crimea.
"To my mind, this is undoubtedly a crime committed against the Russian state and the people of Russia living on one of its territories – Crimea," Medvedev said.
"I would not like it to end this way. However, if there is no other option to influence the situation, the president can probably take such a decision."
Incursion allegations
Russia's domestic security agency, the FSB, has said one of its officers was killed in a gun battle with a group of "saboteurs" from Ukraine last weekend.
The intruders had an arsenal of bombs, ammunition and mines, it said.
The FSB also said two more groups tried to force their way into Ukraine on Monday, using Ukrainian artillery and armour.
One Russian army soldier died in the confrontation.
Captured
Russian media reports say at least five members of a sabotage group were captured.
One of the captured suspects has been identified as Yevgeny Panov.
He has reportedly told the FSB he was part of a group preparing to sabotage:
a ferry crossing
an oil depot
a chemical factory
Russian military equipment
It is claimed he has said the group was directed by Ukrainian military intelligence and included some of its officers.
But Vadym Skybytski says the names Panov has given have nothing to do with the Ukrainian intelligence service.
Fact check
Russia annexed Crimea from Ukraine in March 2014 after a referendum
Conflict then flared between Russian-backed separatists and Ukrainian forces in eastern Ukraine
More than 9,500 have been killed
(Information: Reuters)