Negotiations underway to form a government in Spain
Comments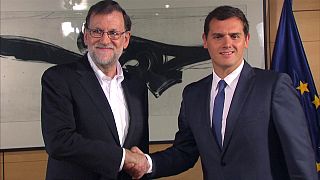 There are signs of movement on the political gridlock in Spain. At a meeting in the Spanish congress, Albert Rivera of the liberal Ciudadanos party said that he would support a government led by Conservative Mariano Rajoy if a package of reforms is agreed upon.
Even with the support of Cuidadanos, Rajoy would still be 176 seats shy of a majority after two inconclusive elections.
Rivera said: "For the good of Spain and Spaniards I'm willing to sit down to negotiate with those who, in my opinion, don't deserve to rule the country. Those who I think have not done things well, those who have not committed in recent years to the fight against corruption. But I insist, there are two options: either we have a government that we don't like or no government at all. Between those two options I choose the less bad one. "
Rivera exige a Rajoy que ponga fecha a su investidura una vez que la Ejecutiva del PP apruebe las condiciones de C's pic.twitter.com/dF99WsSdh4

— Europa Press (@europapress) August 10, 2016
Acting Prime Minister Mariano Rajoy of the Popular Party called upon the Socialist party to compromise. He told a press conference: "If Mister Pedro Sanchez doesn't change his stance, if he doesn't change the 'No' for another answer, the investiture is impossible, completely impossible and you all know that."
Newcomers Cuidadanos have used the stalemate to push through reforms aimed at tackling political corruption.
Rajoy continues to face an uphill struggle to form a government. He must somehow get his political opponents from the Socialist Party on his side.
El CIS refuerza a Pedro Sánchez en su decisión de mantener el no a Rajoy https://t.co/R9g1bxJQbp Por gonzalocortizo</a> <a href="https://t.co/0NPu0TYplA">pic.twitter.com/0NPu0TYplA</a></p>&mdash; eldiario.es (eldiarioes) August 9, 2016