Foreign languages and the complexities of bilingualism
Comments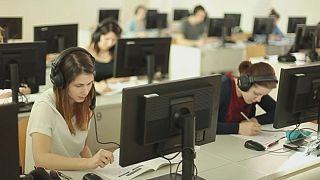 In this episode of Learning World we look at the importance of learning languages.
It can boost your chances of a new job or help you communicate in a more and more connected world.
The Learning World team also look at the cognitive benefits learning new languages has.
In the second part of the episode we look at bilingualism and ask if it really boosts your child's intelligence.
And how does it work for families with different cultural backgrounds?
We visit Euronews's headquarters in the French city of Lyon where a lot of mixed couples work.
Neuroscientist Ellen Bialystok says that every time a bilingual person speaks, both languages pop up and the brain has to sort out what's relevant.
The more choices a brain has to make regularly, the more flexible the speaker becomes.
Researchers also think that it helps to develop stronger problem solving skills and more empathy.
More information:
Why under-4s have best chance of being bilingual