Coalition airstrikes kill 20 in Sanaa after four-month respite
Comments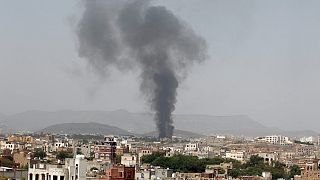 At least 20 people, mostly young women, have been killed following Saudi-led coalition airstrikes in Yemen.
They were the first airstrikes on the capital, Sanaa, since April, and reportedly hit a privately-owned potato factory in the Nahda district on the city's outskirts.
For sixteen months the coalition has crawled along in ground operations, and enforced a naval blockade, but nearly 6,500 deaths later and nearly three million people displaced,
it is no closer to forcing the shi'ite Houthis out of power.
Diplomats have recently indicated both sides seem to accept no military solution is possible, but fighting is intensifying just three days after UN-sponsored peace talks in Kuwait ended in failure.
Reportedly the two sides agreed to reconvene in a month's time, but the venue for the talks was not confirmed.
The coalition supports forces loyal to the government of President Abd Rabbo Mansour Hadi, while the Houthis have allied with forces loyal to former leader Ali Abdallah Saleh and, says Saudi Arabia, are armed and supported by Iran.