Belgium's King Philippe and Queen Mathilde visit Charleroi attack site
Comments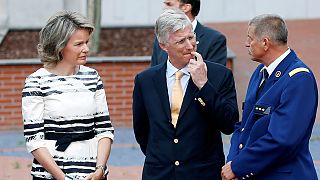 The king and queen of Belgium have visited the scene of the attack in Charleroi where two female police officers were injured by a machete-wielding Algerian man.
King Philippe and Queen Mathilde visited one of the victims, and then visited the town's police headquarters to show their support and solidarity. It is believed the attacker, who had lived in Belgium since 2012 and had a criminal record, had been influenced by Islamic extremism.
Some 250 police officers from around the country also gathered in Charleroi to march in homage to their colleagues, and observe a minute's silence. They have demanded their alert level be raised to level three, the same as for the public.
"We're not talking about demands, we're talking about supporting colleagues, showing that we are still united, that the police is still a big family and that no matter what we are staying by their side, we're staying united in good times as well as tragic times like this one," said local policeman Thomas Preillon.
Officers carried placards reading messages like "We are not targets", and complained at their lack of resources that, said the local state prosecutor, was also a problem at the judicial and administrative level.
The third officer who was assaulted, and who shot the attacker, was also presented to the royal couple.