Together or apart - exploring approaches to educating twins
Comments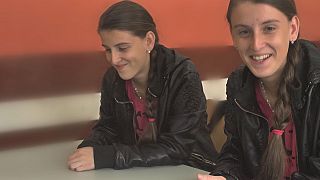 This episode of Learning World looks at approaches to schooling for twins and multiples. We visit both Bosnia and the UK to explore two very different approaches – and also to gain insight from an expert at the forefront of research into educating twins and multiples Professor Pat Preedy
I would like schools to have a policy that is 'no policy' - that looks at the needs of those children both as individuals and as multiples
Bosnia: 'Town of Twins'
Can you imagine a class where all the pupils are twins? In the Bosnian municipality of Buzim this is far from rare – in fact, it is fairly commonplace.
There are some 20 pairs of twins at the Buzim elementary school alone, and in the entire community there are around 100 pairs of twins.
"Being a twin is awesome. See, she's better at school than me. So when I don't know something, she always helps me at home. We do homework together, but we also share many other things," says Merjema of her twin sister Merisa.
Teachers and parents agree that educating twins is not an easy task.
"It is a real challenge to educate twins. You need to be the Mum, the best friend, and the psychologist. Oh, and the doctor as well. And all this much more than than for those Mums that don't have twins. But it is a very beautiful task," says mother of twins Sefika Aldzic.
Bosnia and Herzegovina, Buzim "Town of Twins" by REUTERS/DadoRuvic</a> <a href="http://t.co/EmdOfsagEx">http://t.co/EmdOfsagEx</a> <a href="http://t.co/qG6ailDhRA">pic.twitter.com/qG6ailDhRA</a></p>— Reuters Paris Pix (ReutersParisPix) 24 avril 2015
Science has not provided a definitive answer as to why there are so many twins in Buzim, but genetics surely play a role. Buzim is a small community of around 20,000, where people often marry among themselves.
'They like to be together'
Buzim teacher Emina Alesevic says: "They (twins) like to be together. They may not insist on this but we usually know their needs quite well and this includes being in the same class together. They usually share schoolbooks and other school equipment, and they like to study together at home," says teacher Emina Alesevic.
Buzim has discovered the potential its twins might have for the small community's development. Mayor Agan Bunic is determined to establish Buzim as an international centre for twin meetings and research.
"It's our task to promote Buzim as the 'Town of Twins' and we plan to organise meetings of twins here, both on the domestic but also on the international level. We hope that through this we can attract people to come here, including scientists, which would be beneficial for everyone," says Mayor Agan Bunic.
Whether it is sports, mathematics, or other classes all twins in Buzim tend to be in the same class, in elementary school and later in high school. Sometimes, it can lead to opportunities for pranks and trickery.
"Let's say if they are very similar, be it two twin sisters or two twin brothers, it does happen that they simply change places, and one of them answers a question twice because his or her twin does not know the correct answer," says Emina Alesevic.
Buzim is one of the few communities in Bosnia with an increasing birth rate.
UK: Better together – or separate to soar?
Thirteen-year-old British twins Harvey and Emily Glover are returning to their home in London for the half-term holidays.
Throughout the UK and across the globe, there are increasing numbers of children like them.
Over the last 40 years, the number of twin and multiple births has almost doubled in several parts of the developed world, according to the 'Twinning Rates in Developed Countries' research paper published in the December 2015 Population and Development Review.
Education expert Professor Pat Preedy explains that there are three main reasons for this: "First of all, there is the increase in fertility treatments that are now much more widely available. And then, much older mothers. People are older when they are tending to have their families, and so there is a tendency to release more than one egg.
"And then of course, many twins and multiples are premature and now there is much better baby care the survival rates for twins and multiples, as with all premature babies, is much better."
When these babies reach school age, what then? Parents face an important choice over whether to educate their twins together or apart.
Coming up: a report by SLeandaC</a> on <a href="https://twitter.com/hashtag/twins?src=hash">#twins</a> and education! Watch it next Friday on <a href="https://twitter.com/euronews">euronews#learnworld#edchatpic.twitter.com/oDMjIGMX3Q

— learning world (@euronews_LW) 28 juin 2016
Professor Preedy says when making this decision, the crucial things to understand are, on one hand, the individual needs of each child and, on the other, the relationship between the twins themselves.
Through her research, Preedy has identified three models of twin relationships.
"The one side is called 'closely coupled', often identical twins – that is when the twins look the same, and are very, very similar. And then the opposite of that is 'extreme individual' when they don't like being a twin, they often fight against it, and really struggle to develop themselves as individuals," Preedy explains.
"And then there's a large group in the middle that I call 'mature dependents.' These are the twins for whom it isn't the most important thing for them in the world to be a twin. It's part of them, but they're also individuals, with separate friends."
'Better in separate schools'
Emily and Harvey Glover, whose parents say are firmly in the 'mature dependent' category, study at different schools.
"We decided right from the outset that it was better that they would be in separate schools and have their own lives and their own friends, and be independent of each other whilst still being very close siblings," says mother Alicia.
Harvey attends Fulham Prep School, where is head boy and in his final year, near his parents' home in London.
Emily also studied there – in a separate class – until two years ago. Then, at the age of 11, she moved to Downe House, an all-girls boarding school outside London, which she is very much enjoying.
Mother Alicia says both children are flourishing at their respective schools.
Emily and Harvey say they remain as close as they have always been, despite living and studying apart during term-time.
"Obviously, when she (Emily) had been at the same school with me for eight years, it was a bit weird when she went," says Harvey.
"When I'd come back home from school there was only me and Mum, as opposed to Em there. But then I got used to it and over time it just felt normal again."
Professor Preedy emphasises that for twins and multiples, as with all children, the parents play the most crucial role in their development.
But when twins do study together, schools need to be sensitive to the particular needs of twins while making sure that each child is treated as an individual.
"I would like schools, actually, to have a policy that is 'no policy,' if you like, that looks at the needs of those children both as individuals and as multiples. And can be flexible, so the schools don't say, 'We always keep them together' or 'We always put them apart' – so they can make the most of their education."
Do you have views on the best ways to educate twins and multiples?Please join the conversation, via the Learning World Facebook and Twitter pages