The UK faces its longest train strike in 50 years
Comments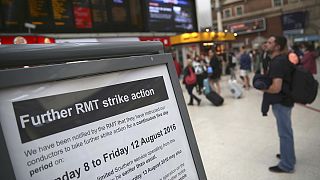 Hundreds of thousands of train commuters in London and southern England have been left facing misery on the first day of a five-day strike.
It is the longest train strike in the UK for almost 50 years.
Southern, the company which runs trains from destinations like Brighton and Gatwick Airport to and from the capital, says only 60% of its services will operate during the week.
#NSSN on #Victoria picket today supporting start of 5day RMTunion</a> <a href="https://twitter.com/hashtag/SouthernStrike?src=hash">#SouthernStrike</a> - <a href="https://twitter.com/hashtag/Nationalise?src=hash">#Nationalise</a> <a href="https://twitter.com/SouthernRailUK">SouthernRailUKpic.twitter.com/a8Wg3VQnsK

—

NSSN

(@NSSN_AntiCuts) August 8, 2016
The strike
Starts: 00:01

BST

Monday 8th August
Ends: 23:59

BST

Friday 12th August
The longest on the UK network since 1968
60% of services "guaranteed"

What is the walkout about?
A safety row over who opens and closes the train doors.
The dispute centres on the role of conductors. They are the staff members who currently have the responsibility for managing carriage doors.
Southern wants to extend the use of driver-only operated trains, reducing the safety role the conductors play.
The concern is trains would eventually operate with only one member of staff on board.
Have talks between the company and the

RMT

union broken down?
Yes.
The RMT says it offered to call off the strike during talks last week, if the train operator Govia Thameslink Railway (GTR) promised there would be a second member of staff present on trains while the negotiations continued.
However, the talks failed as GTR said in times of disruption, there might be occasions when they would let trains run with only a driver.
What impact would this have on passenger safety, in concrete terms?
A significant one, according to the
RMT
union.
However, train operator Govia Thameslink Railway (GTR) says the changes would lead to fewer service cancellations as services would no longer require both drivers and conductors.
The opposition Labour Party has accused the government of failing to help resolve the dispute because of an anti-union agenda.
What they are saying
We want to ensure there's a guard on every train says RMTunion</a> gen sec <a href="https://twitter.com/hashtag/southernstrike?src=hash">#southernstrike</a> <a href="https://twitter.com/hashtag/RMTstrike?src=hash">#RMTstrike</a> <a href="https://t.co/SDjKG0xinG">pic.twitter.com/SDjKG0xinG</a></p>&mdash; Damien Gayle (damiengayle) August 8, 2016

"Our fight is with the company and the government who have dragged this franchise into total meltdown. We share the anger and frustration of passengers and we cannot sit back while jobs and safety are compromised on these dangerously overcrowded trains," – RMT General Secretary Mick Cash defends the action.
'We have done our best,' says rail boss: Govia Thameslink chief exec Charles Horton says changes are needed t… https://t.co/h8j3MejIeQ

— Rail News UK (@RailNewsUK) August 8, 2016
"The RMT union is letting everyone down and the action they are taking this week is unnecessary, uncacceptable and unjustified," – Charles Horton, Govia Chief Executive says guarantees have been given about the role of conductors but the RMT has refused to negotiate.
"It is not helping passengers travelling on these trains whether people have concerns about safety or not," –
a spokesperson for UK PM Theresa May
says the strike will not solve anything.