Ramos bids to restore friendly ties between China and the Philippines
Comments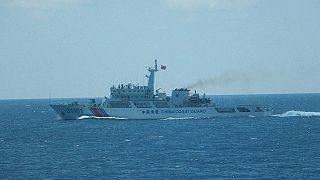 As China raises the temperature in its several maritime territorial disputes with its neighbours, the former Phillipines president Fidel Ramos is making a five-day trip to Hong Kong.
He says the purpose of the trip is to meet "old friends" and try to restore an amical dialogue.
"I am just the ice breaker to rekindle, to warm up again, our good friendly neighbourly relations with China, and that's all that I have to do, and maybe that's all I can do," he said.
But on the same day Japan said it would respond firmly to what it called 14 incursions into waters around islands it claims in the East China sea.
Last month the Hague-based Permanent Court of Arbitration rejected China's main claim to the sea, but Beijing refuses to recognise the court.
"We will continue to strongly demand that China not escalate the situation and coordinate with the various ministries, including the coast guards, in order to deal with this resolutely but also with a cool head," said Japan's Chief Cabinet Secretary Yoshihide Suga.
China is also in dispute with Vietnam, Brunei, Malaysia, and Taiwan over claims in the entire South China Sea, rich in fish and possible energy deposits. It has already seized the Scarborough Shoal from the Phillipines, in 2012, which led to Manila bringing its case to The Hague.