Michael Phelps takes 19th Gold Olympic medal
Comments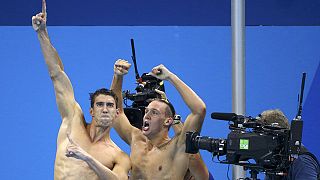 Michael Phelps won his 19th Olympic gold medal on Sunday in Rio.
The 31-year-old helped the US men's team to victory in the 4×100 metres freestyle relay.
Phelps originally retired after the 2012 Games but decided to return.
It was his first competitive appearance in the pool after sitting out the heats.
France took the silver medal and Australia went away with the bronze.