Japanese Emperor Akihito hints at wish to step down because of old age
Comments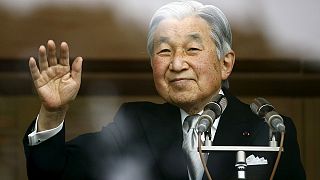 In only his second ever public address to the nation, Japan's Emperor Akihito has signalled his desire to step down.
While stopping short of saying he wanted to abdicate, the 82-year old head of state expressed fears over his ailing health and ability to carry out his duties, due to old age.
"When I consider that my fitness level is gradually declining, I am worried that it may become difficult for me to carry out my duties as the symbol of the state with my whole being, as I have done until now," he said.
#Japan's emperor #Akihito hints at abdicationhttps://t.co/uKHLyPLYMy

— dwnews (@dwnews) August 8, 2016
In recent years Akihito has undergone heart surgery and been treated for prostate cancer.
Reacting to the 10-minute pre-recorded address, Japanese premier Shinzo Abe said the government would ''seriously'' discuss the constitutional changes required to enable the emperor to step down.
Currently no legal procedures exist for an abdication and such a move would need to be approved by parliament.
Once considered divine, the emperor is defined under Japanese law as a symbol of the state and has no political power.
The desire to abdicate could be seen as interfering in politics.
Akihito eldest son, 56-year-old Crown Prince Naruhito is first in line to the thrown.
An English translation of the emperor's remarks was issued by the Imperial Household Agency, which manages his affairs. Experts say Akihito is said to feel strongly that an emperor's full performance of his duties is integral to his constitutional role.
Opinion polls show the vast majority of ordinary Japanese sympathise with the emperor's desire to retire, but the idea has sparked opposition from Prime Minister Shinzo Abe's conservative base, which worries that debate on the imperial family's future could widen to the topic of letting women inherit and pass on the throne, something considered unacceptable to traditionalists.