Bomb rips through hospital emergency ward in Quetta, Pakistan
Comments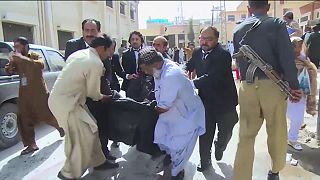 There were scenes of chaos after a powerful bomb exploded in a Pakistani hospital's emergency ward killing dozens of mourners.
More than 100 lawyers and journalists had gathered to accompany the body of prominent lawyer Bilal Anwar Kasi who was shot and killed last week. His body had been brought to the hospital shortly before the blast.
AAJ TV cameraman, Shehzad Khan, lost his life while covering terror attack in #Quetta ,killing 30 DAWN cameraman injured.Two journos missing

— Owais Tohid (@OwaisTohid) August 8, 2016
The explosion happened in the city of Quetta, the capital of a province that's seen increasing violence linked to a separatist insurgency.
There was no immediate claim of responsibility and the motive for the attack was not clear.
Quetta has long been a base for the Afghan Taliban, where its leaders met regularly.
In May, the group's leader Mullah Akhtar Mansour was killed by a US drone strike while travelling to Quetta from the Pakistan-Iran border.