ISIL claims machete attack against Belgian policewomen
Comments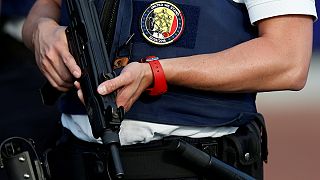 The group calling itself Islamic State, or ISIL, has claimed responsibility for the machete attack that wounded two policewomen in the Belgian city of Charleroi, the group's Amaq news agency said on Twitter on Sunday.
We must avoid panic, and not give in to terror

Belgian Prime Minister
Prosecutors have identified the attacker as K.B., a 33-year-old Algerian man who had lived in Belgium since 2012. He had a criminal record but was not known to police for terror-related offenses.
The assailant, who shouted "Allahu Akbar" ("God is greatest" in Arabic) during the assault on Saturday afternoon, was shot by a third police officer and later died of his injuries. He was carrying a rucksack but no explosives or other weapons were found.
Islamic State have claimed responsibility for the machete attack in #Charleroi yesterday. pic.twitter.com/sL6IwnyGZX

— David Videcette (@DavidVidecette) August 7, 2016
Prime Minister Charles Michel cut short his holiday and said security was being increased at police stations.
"I repeat my message that we must keep a cool head. We must avoid panic of course… and not give in to terror. That's the trap that's been set for us," he told a news conference.
Both policewomen sustained wounds to their face and neck and were rushed to hospital, where they were placed in a medically induced coma, Belgian media reported.
A spokesman for the Charleroi police told RTBF state media that one of them was seriously wounded as she received "very powerful" machete blows on her face. The other officer was more lightly wounded, also above the neck.
ISIS claims responsibility for machete attack on two Belgian policewomen by Algerian https://t.co/OAD34yzVqU

— Daily Mail Online (@MailOnline) August 7, 2016