Obama warns defeating ISIL militarily 'will not be enough'
Comments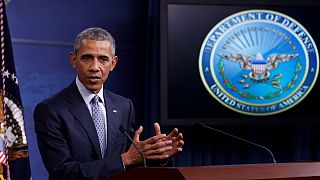 President Barack Obama has hailed the progress he says the United States and its allies have made in the military campaign against ISIL.
But, speaking after a security briefing at the Pentagon on Thursday, he warned of the risks of attacks abroad by the group, as it shifts strategy faced with defeat in Iraq and Syria.
"Even ISIL's leaders know they're going to keep losing," Obama told reporters.
"In their message to followers, they're increasingly acknowledging that they may lose Mosul and Raqqa, and ISIL is right," he continued.
But he warned that more than military victory is required.
"Even as we need to crush ISIL on the battlefield, their military defeat will not be enough.
"So long as their twisted ideology persists and drives people to violence, then groups like ISIL will keep emerging, and the international community will continue to be at risk in getting sucked into the kind of global 'whack-a-mole,' where we're always reacting to the latest threat or a lone actor," he said.
.@POTUS spoke at the Pentagon about the #ISIL campaign. Read about progress
in Syria, Iraq: https://t.co/iDYImbRdYSpic.twitter.com/XemmqKsgDK

— U.S. Dept of Defense (@DeptofDefense) 5 août 2016
Obama also used the news conference to reject claims that his administration's payment of $400 million worth of cash to Iran amounted to a ransom in exchange for the release of US prisoners there.
"We do not pay ransom for hostages," Obama said.
"We have got a number of Americans being held around the world and I meet with their families and it is is heartbreaking. And we have stood up an entire section of inter-agency experts who devote all their time to working with these families to get these Americans out. But those families know that we have a policy that we don't pay ransom."
A report in the Wall Street Journal alleging the secret organisation of an airlift of cash to Iran sparked the controversy.
Obama defended his decision to authorize a $400 million cash payment to Iran https://t.co/C3wwk8H3cv

— Wall Street Journal (@WSJ) 4 août 2016
Iran released the five detainees on Jan. 16 after the United States had agreed to grant clemency to seven Iranians held mostly for sanctions violations and drop charges against 14 Iranians overseas.
The payment, which the administration announced the following day, coincided with the lifting of international sanctions on Tehran as part of an historic nuclear deal reached last year.
"We announced these payments in January, many months ago. It wasn't a secret. This wasn't some nefarious deal," Obama said.
At the time, the United States said it had settled a long-standing Iranian claim at the Iran-US Claims Tribunal in The Hague, releasing funds that had been frozen since 1981.