'Jump! Jump! Jump! Leave your bags behind!' - Chaos inside crashed Dubai plane
Comments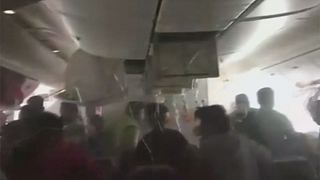 Footage shot from inside the cabin of crashed Emirates flight EK521 reveals the panic and chaos as passengers scramble to escape the blaze.
Oxygen masks hang from the ceiling of the dimly lit cabin where power had been cut and a frantic crush of people can be seen packing the aisles as they rush to the emergency exits.
One woman can be heard screaming: "Jump! Jump! Jump! Leave your bags behind!" and the footage shows a plane engine engulfed in flames before erupting in a plume of smoke and fire.
[Video] Black smoke filling quickly the cabin after the slides were deployed & all were evacuated #EK521 via rsddar</a> <a href="https://t.co/VDpZTtr9xV">pic.twitter.com/VDpZTtr9xV</a></p>&mdash; Flight-Report ✈ (flight_report) August 3, 2016
The crash was the result of a failed emergency landing, although an investigation continues into the exact cause.
Authorities cancelled all traffic into and out of Dubai International airport for several hours, although flights have now resumed.