Passengers dramatic escape as plane bursts into flames at Dubai airport
Comments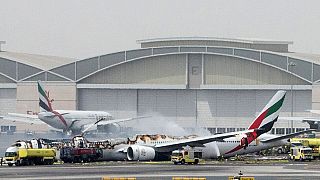 A plane crash-landed at Dubai Airport on Wednesday, immediately bursting into flames.
Amazingly all 300 people on board were able to escape from the burning aircraft. Thirteen were treated for minor injuries.
One firefighter tackling the blaze was killed.
Emirates flight 521 was flying to Dubai from the southern Indian state of Kerala.
CEO and chairman of the Emirates Group, Ahmed bin Saeed Al Maktoum, said: "I can confirm that the aircraft (was) up to date in inspection, checks and all of that. There was one fatality, it is actually one of the firefighters men at Dubai International Airport, but nothing from the people who are onboard that aircraft."
The route is popular with hundreds of thousands of people from southern India who work in the Gulf countries.
Flights to and from the world's busiest international airport were suspended for several hours.
Aviation officials are now investigating the cause of a crash.