France announces plans for increased security
Comments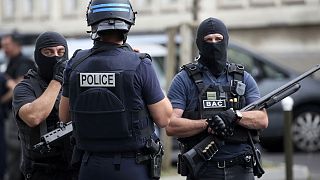 France has announced plans to increase the number of security officers patrolling its streets.
An estimated 12,500 reservists have joined the regular French police force, whose resources have been stretched to the limit by the recent series of militant attacks.
The announcement comes as France's busy holiday period gets into full swing.
French Interior Minister Bernard Cazeneuve says it is also hoped the country's planned National Guard will number 84,000 by 2019.
40,000 will go to defence while 44,000 will go to the Interior Ministry.
VIDEO – Risque terroriste: "un niveau de menace élevé", assure Bernard Cazeneuve https://t.co/FgBzHNHUZepic.twitter.com/40Je2q7gbf

—

BFMTV

(@BFMTV) August 3, 2016
When did he say this?
After French cabinet and defence council meetings in Paris on Wednesday.
Ministers are due to have a short holiday before government business picks up again at the end of August.
Why is this happening?
Menace terroriste: nouveau conseil de défense autour de François Hollande à l'Elysée https://t.co/FJP5ogcEUTpic.twitter.com/fkOPdopVCQ

— News Republic France (@NewsRepublic_Fr) August 3, 2016
French President Francois Hollande says he wants to build a National Guard, made up of operational reserves, to counter the threat of terrorism.
This was decided after last month's lorry attack in Nice which claimed the lives of 84 people and injured scores more.
The operational military reserve will relieve the country's security forces, whose resources have been stretched by three major militant attacks on French soil since January 2015.
In numbers
Cazeneuve also gave details of the outcomes of the security measures in place in France since the beginning of 2016.
165 arrests
91 people under investigation
63 in custody
25 under judicial supervision
9 in custody since July 31 on important cases representing "significant threats".
He also told reporters an estimated 12,500 reservists have joined police to help reinforce security measures.
Have any summer events been affected?
Yes.
Several cities and towns decided to cancel summer festivities in the wake of the Nice attack.
Marseille, La Baule, Avignon and others have cancelled fireworks displays.
The authorities in Marseille also called off a major air show which was expected to draw 100,000 spectators next week.
What they are saying
"This involves the mobilisation of our forces, this also involves the mobilisation of the municipal police and potentially of private security agents," he said, adding that 4,000 gendarmes and 4,700 reservist policemen would be deployed in August for this purpose," – Bernard Cazeneuve says a high level of security will be maintained at summer events across France.
"France is facing a threat which remains high and is engaged in a long war," – French President Francois Hollande told his ministers at their last meeting before a brief summer break.