Libya PM hails success of US air strikes on ISIL
Comments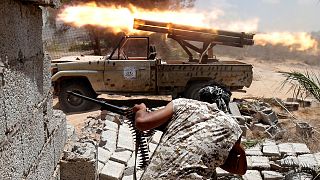 The UN-backed government in Libya has hailed the success of US air strikes against ISIL fighters in the coastal city of Sirte.
Libyan Prime Minister Fayez Seraj confirmed that his administration had requested American help in the skies.
Speaking on state TV, he said the strikes had caused "severe losses to enemy ranks", and added:
"Our forces succeeded in recapturing some important and strategic positions."
The last acknowledged US air strikes in Libya were on an ISIL training camp in the western city of Sabratha in February.
This time, the aim is to to help push remaining ISIL fighters out of their former stronghold in Sirte.
The US has launched multiple airstrikes against ISIS in Libya today https://t.co/eFjGjBpzkz

— New York Post (@nypost) 1 août 2016
"These strikes were authorised by the President following a recommendation from Secretary Carter and Chairman Dunford," Pentagon spokesman Peter Cook told reporters.
"They are consistent with our approach of combatting ISIL by working with capable and motivated local partners."
He said strikes on Monday targeted a specific tank location and two ISIL vehicles that posed a threat to government forces.
In a statement, Cook added: "These actions and those we have taken previously will help deny ISIL a safe haven in Libya from which it could attack the United States and our allies."
ISIL seized Sirte last year, making it its most important base outside Syria and Iraq, but its militants are now besieged in a few square kilometres of the centre where they hold strategic sites including a conference hall, the central hospital and the university.
US and Libyan officials estimate that several hundred ISIL fighters remain in the Mediterranean coastal city.
Forces allied with Libya's unity government, which is still struggling to impose its authority on the chaotic country, have been battling ISIL in Sirte since May.
But they have faced lethal resistance in the home town of the late, toppled dictator Muammar Gaddafi
from snipers, suicide bombers and mines.
Small teams of Western special forces have been on the ground in eastern and western Libya for months. Last month, France said three of its soldiers had been killed south of the eastern city of Benghazi, where they had been conducting intelligence operations.