Taliban claim Kabul truck bomb blast
Comments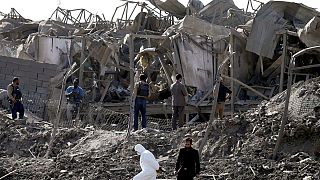 The blast was so powerful it was heard all across Kabul.
The Taliban have claimed responsibility for a truck bomb attack on a compound housing foreign contractors in the Afghan capital.
Authorities said one policeman was killed and three wounded as they fought the assailants throughout the night. Three Taliban fighters were killed, including the truck driver.
Taliban truck bomb kills policeman outside Kabul hotel https://t.co/uTGtWvoeO8pic.twitter.com/f6zycn5NwT

— Daily Mail Online (@MailOnline) August 1, 2016
"There was a loud blast and many people heard it," one resident said. "Then there were sounds of gunshots too. When I came here in the morning, I saw many security forces and they had blocked both ends of the road so that nobody could enter."
Several people in surrounding areas were injured by broken glass and shattered windows, according to local media reports.
Not far from Kabul's main international airport, the Northgate Hotel is a heavily guarded compound for foreign military and civilian organizations. It had been attacked by militants three years ago.
There were reports of power outages in several areas of the city after the blast.
Taliban truck bomb rocks hotel for foreigners in Kabul https://t.co/zQRVegau4Spic.twitter.com/n9sAuREj0r

—

AFP

news agency (@AFP) August 1, 2016