IOC chief defends handling of Russian doping crisis
Comments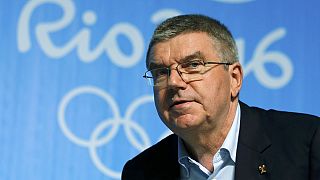 President of the International Olympic Committee, Thomas Bach, has defended his organisation's treatment of the Russian doping crisis ahead of the Rio Games.
The IOC has set up independent panel to make a final decision on the eligibility of Russian athletes after having ruled against a blanket ban on the nation in the wake of a damning World Anti Doping Agency independent report that revealed a wide-spread state-sponsored doping programme across many different sports.
The IOC initially handed the responsibility to international federations to decide whether or not Russian athletes were eligible to compete in Rio.
On the system created to weed out the cheats, Bach said: "We now have to decide what does this system mean for each and every individual and how far can you to punish an individual for the failures or manipulations of your government."
Despite the games starting next week it still remains uncertain how many athletes will be eligible to compete.
The IOC chose a set of criteria for Russian athletes to meet in order to take part, including a clean doping past, and so far this has cleared the path for more than 250 of the original 387-strong team to go for Olympic gold.
When asked if his organisation's credibility had been damaged by the situation Back replied ''I don't think this event will be damaging. I trust people will realise the difficult situation we are in. We did our best to address the situation in a way to protect clean athletes.''
The International Association of Athletics Federations (IAAF) has upheld the ban of all Russian track and field athletes from Rio with the exception of those allowed to compete under a neutral flag.
The International Weightlifting Federation (IWF) has followed suit and banned Russia's eight-strong weightlifting team from competing in Rio.