Turkey's Erdogan drops 'insult' lawsuits and condemns West
Comments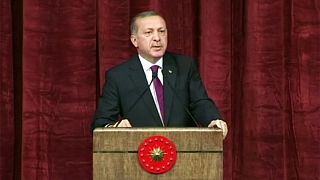 Turkey's President Recep Tayyip Erdogan says he is dropping all lawsuits filed against people accused of "insulting" him, as a one-off gesture.
Prosecutors have opened almost two-thousand cases since he took power 18 months ago.
"I take this opportunity to withdraw all the lawsuits, for this once, against those who showed disrespect to me and insulted me in every way," Erdogan confirmed.
Insulting the president is a crime in Turkey punishable by up to four years in jail, but the law has previously been invoked only rarely. Critics accuse Erdogan of intolerance and say he is using the law to stifle dissent.
Erdogan also rejected Western criticism of purges in Turkey's military and other state institutions, following the recent failed coup.
"Let me say this explicitly. Any country and any leader who does not worry about the sake of Turkish democracy, about our people's right to live and about our nation's future, the future of our people, as much as they worry over the fate of putschists, are not our friends. They should know this," he told hundreds of supporters at the presidential palace in the Turkish capital.
Late on Friday, 17 journalists were formally arrested over their alleged links with the coup plot – which Ankara claims was masterminded by US-based Muslim cleric Fethullah Gulen.
More than 60-thousand people have been detained, removed or suspended as part of the purges.