France admits justice system failed over church attacker
Comments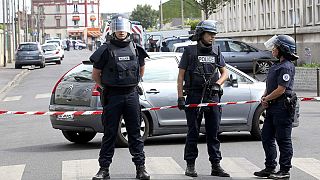 The security record of President Francois Hollande's government is under intense scrutiny over the murder of a priest in northern France.
My government won't be the one that creates French-style Guantanamo centres

Prime Minister of France
One of the attackers – Adel Kermiche – was supposed to be under tight surveillance after two attempts to reach Syria.
French Prime Minister Manuel Valls has admitted the French justice system failed.
He told newspaper Le Monde: "Adel Kermiche's house arrest with electronic monitoring, was initially ordered by a magistrate specialising in jihadism cases, and confirmed by three experienced appeals court judges. We must recognise the failure."
Nicolas Sarkozy, President Hollande's predecessor and potential opponent in next year's election, has seized on the situation. He called for stronger measures to track down and detain known Islamist sympathisers.
But François Heisbourg, Chairman of the International Institute for Strategic Studies, said that won't work: "The government has locked itself into a repetition of what it has already done, that is – more state of emergency, more soldiers, more bombing against Raqqa or Mosul. These three things didn't work in the past, it is unlikely that they're going to work much better in the future. As for the opposition, it does tend to prefer grand-standing and putting forward rather extravagant measures, like putting into detention camps just about anybody who has come to the notice of the police"
Prime Minister Valls also dismissed the idea. In his interview with Le Monde he said: "We should do anything that leads to better security, but there is a line we can't cross: the rule of law. Detaining people on suspicion alone is morally and legally unacceptable and wouldn't be effective. My government won't be the one that creates French-style Guantanamo centres."
The prime minister said the government had a strategy to defeat "Islamic totalitarianism". It involves, he said, a "revolution in our security culture".
But it is difficult to see how what will work against radicalised youths like the second church attacker – Abdel-Malik Nabir Petitjean – who had no criminal record and who despite being French born spoke in a video about "destroying your country".
The International Institute for Strategic Studies' François Heisbourg said: "A state of emergency is intrinsically a bad idea, because it simply pushes the terrorists into deeper cover, clandestinity. They adapt quite well to states of emergency. Surveillance, yes, but we should not kid ourselves. The only way to try to preempt the sorts of things which happened in France or in Germany very recently, or in Belgium, will require much more massive surveillance of society in general, and not simply of would be perpetrators."
A French parliamentary report released in early July called for a major overhaul of the country's intelligence services with better co-ordination and sharing of information.
And as Prime Minister Valls warned "This war.. will be long and we will be subjected to other attacks."