Eurozone GDP growth slows in Q2, French economy stalls
Comments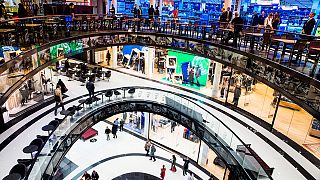 The eurozone's economic growth slowed between April and June – ahead of Britain's vote to leave the European Union.
Gross domestic product in the 19 countries using the euro rose 0.3 percent quarter-on-quarter according to preliminary estimates from the European statistics office Eurostat.
That was half the 0.6 percent growth recorded in the first three months of the year.
For the whole eurozone GDP was up 1.6 percent from the same period last year, slightly weaker than in the first quarter when it was revised upwards to 1.7 percent.
French economy stalls
We don't yet have a full breakdown of the GDP data country by country, but the French statistics were released on Friday.
They showed growth of the eurozone's second largest economy was a worse-than-expected zero due to weak consumer spending and less business investment, implying Germany performed better.
Eurozone GDP rises 0.3% in Q2 after a robust 0.6% in Q1. 2015 also saw a slowdown after a good Q1. pic.twitter.com/NyxRJRA1Ds

— Marcus Wright (@MarcusEconomics) July 29, 2016
A slowdown for the eurozone was expected after the strong growth in the first three months of the year, but it may have been compounded by the uncertainty preceding the June 23rd British referendum on EU membership.
First estimates on eurozone inflation released on Friday by Eurostat showed a slight rise to 0.2 percent in July from 0.1 percent the previous month, but still far away from the European Central Bank's target of a rate close to 2 percent, while core inflation remained stable.